Detrum Z3 Lite RC Airplanes Flight Controller Set with GPS EP Version
Brand::

Dynam-rc

Product Code:

DTM-1009

Availability:

In Stock
Detrum Z3 Lite RC Airplanes Flight Controller Set with GPS EP Version

Detrum Z3 Lite RC Airplanes Flight Controller Set with GPS EP version shipped from the UK to worldwide.
Wholesale with MOQ: 7
Detrum Z3 is a flight controller for fix wing airplanes, including normal airplanes, delta wing airplanes and V-tail airplanes. It connects to the receiver on the airplane to provide the flight control. Z3 supports 5 flying modes: 1. Return Home Mode: once actuated, the airplane flies back to the location where it takes off regardless of the airplane flight attitude; 2. Normal Stabilization Mode: provide basic gyro function to the airplane; 3. Safe Mode: control the airplane with pre-set parameters including altitude and direction; 4. 3D Lock Mode: hold the position when actuated and 5. Autopilot Off Mode: pilot takes full control of the airplane.
When the transmitter signal is lost due to out of range or the airplane is out of position due to pilot mistake, the autopilot functions and takes control to fly the airplane automatically back, which gains precious time for the pilot to react!
Z3 has an innovative and simple way to actuate the horizontal calibration, in the way that a computer or power reset are not needed.
Z3 is compatible with ALL of major 2.4 G systems in the market and it supports DSM, S.BUS, PWM receivers. Pairing with a Detrum program card, the parameters can be easily programmed.
Together with Detrum Blitz DT-9 and RXC9M system, the telemetry function provides real time flight information, including, attitude, speed, altitude, distance, satellite reception. Flight information (max, min, average) is recorded and available for pilots to review after the flight is complete.
Features
Return Home
Adding path control based on the auto-recovery mode, it allows the airplane to automatically plan the path, lead the airplane back to the starting point. Height is controllable during the return flight. You can exit the return mode at any time by waving the return switch, supporting one-button return and signal loss return.
Main Control IC
32-bit high-performance ARM core processor, 6-axis MEMS gyro chipset
Control Algorithm
Original airplane attitude stabilization algorithm and control algorithm. Support normal wing, fly wing, V-tail airplanes, and 3D planes.
Flight Mode
Four flight modes: Gyro off, Normal, Aerobatic, and Auto-Recovery (Auto Balance). You can switch between different modes by the toggle switch.
Adjusting the Gain
Set the gain and other programmable items with 3in1 program card.
Compatibility
Support PPM, S.BUS, S.UBS2, DSM2 and DSMX receivers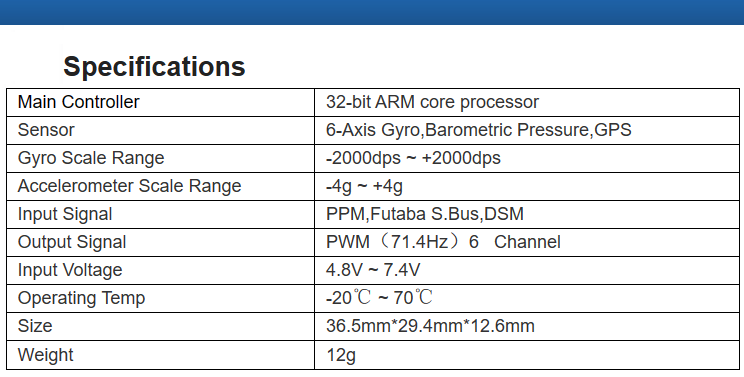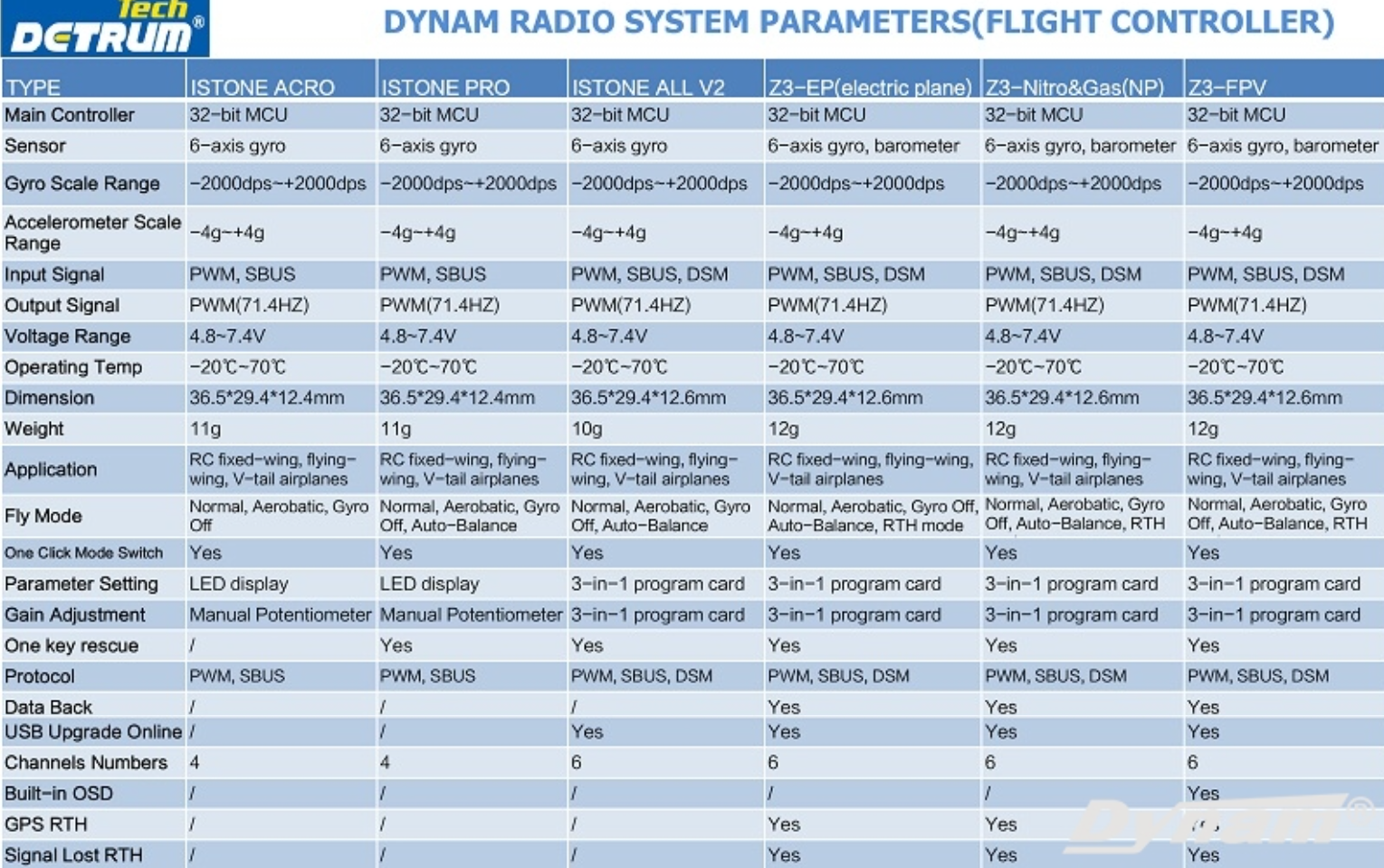 Tags: detrum Z3 EP version, buy detrum z3, low price on detrum z3, fantastic deal on detrum z3 EP version