Dualsky AS700 Analog Chassis Servo
Brand::

Dualsky

Product Code:

AS700

Availability:

In Stock
Dualsky AS700 Analog Chassis Servo

Dualsky AS700 Analog Chassis Servo. MOQ: 11
Dimensions: 44.1 x 23 x 24.4mm
Weight: 30g
Bearing: Dual BB
Wiring: 30cm/JR
Analog chassis servo, low profile.
Info:
analog servo, 3-pole motor
bearing: 2x BB
modes: nylon
speed: 0.4sec / 60 ° (4.8V), 0.35sec / 60 ° (6.0V)
power: 7.0kg / 4.8V, 7.5kg / 6.0V
weight: 30g
Dimensions: 40.8 x 23 x 24.4mm
30cm cable with JR connector
25-tooth levers
a set of appropriate brackets and screws included
application: as a counterpart to Spektrum A7040 servos and other undercarriages of similar power and size
Who can buy wholesale from us?
Individuals, online shops, high-street shops.

Whether you are an individual who is a fanatic of RC toy models and needs large quantity or an online RC hobby store or in the high streets, our wholesale prices are the best all over the world.

Is there a quantity limit?
Yes, there is a MOQ of 11 servos. You can purchase as many as you want providing you respect the MOQ
Do I get a discount for buying a bigger quantity?
Yes, if you contact us prior to purchasing a big quantity (more than 5), we can offer you an even better price. The amount of the discount is at our discretion, meaning if you purchase the same quantity as you did few weeks ago or few months ago, the amount discounted may not be the same. It may be less or more.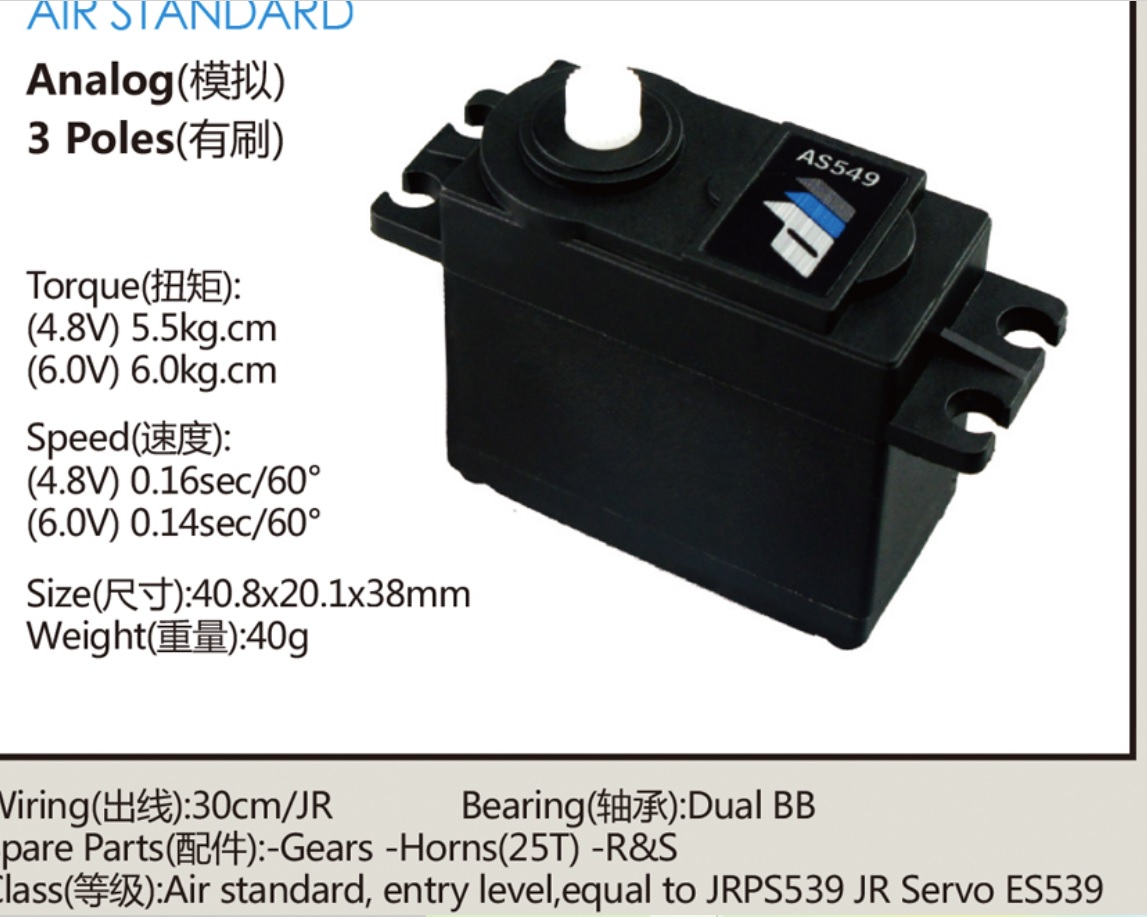 Tags: UK wholesale Dualsky AS549 Servo, wholesale Dualsky servo, bargain on dualsky servo, great deals on Dualsky servo UK, wholesale Dualsky servo UK